By Ian Millichamp
"Stand-up Charlie!" Those unkind words are often heard as Charlie Draper gets up to address attendees at his Darfield Fly-in. On this occasion, however, I refer not to his nuggety stature but to his habit of shying away from publicity about his contribution to aviation in the Canterbury region.
Charlie started learning to fly in a Piper Cherokee at the Canterbury Aero Club when he was 17 years old. He got close to finishing his PPL but, like many people that age, got distracted and went off in a different direction. Skydiving, kart racing, sidecar racing, starting a business and buying a farm dominated his life over the next twenty years, but the aviation bug was always lurking.
In his forties he made the bold step of buying an aircraft before attempting to complete his PPL. This time he trained with Jackie Frame of Hanmer Air, who was a great fit for a person wanting to finish his licence with the minimum of revision and re-qualification. It turned out that Charlie had not forgotten much, as he finished his PPL after only ten further hours in the air. Charlie credits Jackie's practical, student-specific approach for getting him through so quickly.
Charlie's first aircraft was a half share in a 1961 Beagle Airedale. It was a mix of the old and the new with a steel tubefabric fuselage powered by a 180HP engine and constant speed propeller. At the time it was the only Airedale in the country.
A few years later another aircraft project came along. Paul Morrison owned a damaged Auster that he rebuilt for Charlie over a period of twelve years. For a short period of time Charlie operated both aircraft, but sold the Airedale eight years ago and now does all of his flying in the Auster.
Charlie's working life started as a fitter and turner apprentice at CWF Hamilton Grassroots aviation champion in Christchurch, which led to a job as a maintenance fitter at MM Cables. His next step was the purchase of a small farm at Sheffield from which he ran a farm contracting business for many years. He and his wife Jo are now full time farmers on a 200ha property near Darfield, which has become the home of his popular fly-in.
Charlie does most of his flying in the local area with a tight group of friends. He occasionally ventures further afield but the hassle of carting around 91 grade fuel for the Auster makes long distance trips difficult. His longest day in the air started at Omaka on a day when the sky was full of low cloud and rain. He took off at 8am and fought an all-day battle with the weather, having to land at Cape Campbell (twice), then Hanmer, then Culverden, then Rangiora before finally getting home to Darfield at 5pm.
For many years Charlie operated under the radar and only occasionally participated in AOPA events. It may have stayed that way, had it not been for a get together in Omarama where Murray Paterson suggested that "one of you North Canterbury lot should organise a fly-in". Charlie thought about it and came up with the idea of the Darfield event. At first most people thought that the Darfield Fly-in would be a one-off but it has developed into one of the most popular events in the AOPA calendar.
Readers by now may have guessed that Charlie is not great with dates but he thinks that the first Darfield Fly-in took place seven or eight years ago. It attracted 23 aircraft and was, by Charlie's admission, not the best example of aviation event planning. Attempting to take that many aircraft to multiple strips in one group was a mistake. That no incidents occurred, Charlie credits more to airmanship than to his planning.
These days, participants are broken into small groups with a designated leader and a well considered plan about the order in which they will visit each strip. Any new strips on the itinerary are reconnoitred before the weekend so that proper briefing notes can be developed.
Charlie and I checked out a new (to us) strip north of Amberley in the lead-up to the 2020 fly-in. Charlie wanted to take my Cessna as it was more typical of what people would be flying on the day. The farmer described his paddock as having a vector 'about 500m long' but because we had been unable to pin point it on Google Earth, we decided to take a look to make sure.
We eventually spotted a windsock and after landing both thought that the strip seemed shorter than described. On the way out we taxied the aircraft to the far end of the paddock and really concentrated on using all of the space available. As we cleared the fence we both said 'that's not 500'. By now we had the co-ordinates and a check of Google Earth showed it to be more like 400m on the vector that a visiting pilot was most likely to use. The briefing notes were amended and a safe event took place.
The Darfield Fly-in now attracts more than seventy aircraft and is at the point where it is saturating local accommodation and facilities. Charlie is very proud of this growth and the ever increasing contribution it is making to the local community. In 2020 the Darfield Rugby Club made more than $800 from hosting the event – money which will be used to supply jerseys to young players. The AOPA logo is to be included on the jersey!
Charlie is adamant that the fly-in remains accessible to all pilots and all aircraft types. He also wants the event to be affordable, as he understands from personal experience how expensive aviation is to pilots in the early stages of their flying careers, when they are also likely to be facing family and business commitments.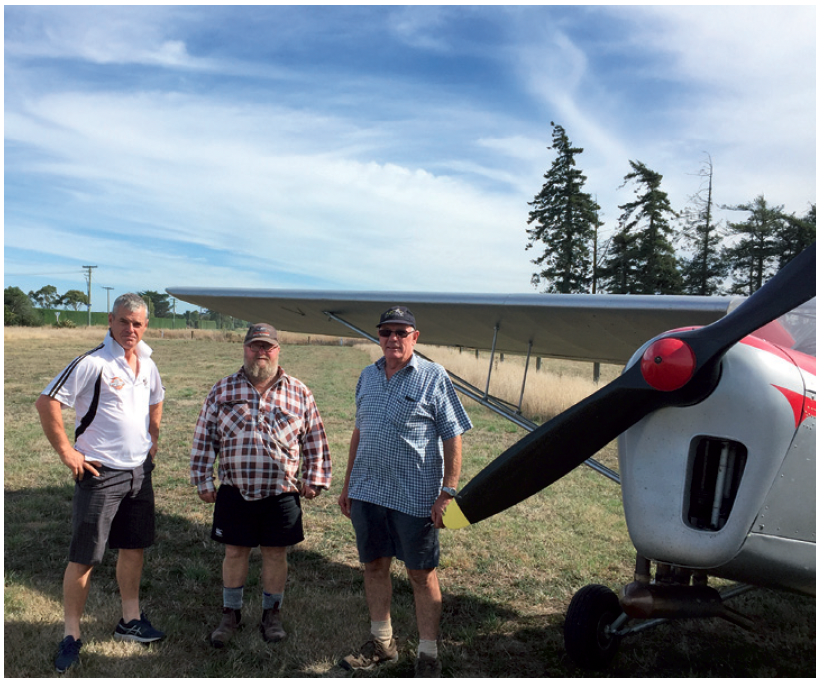 Charlie has assembled a large group of assistants who help in the planning and operation of the fly-in – in fact, I am yet to meet a local pilot who is not involved in some way. He is reluctant to name names, however, for fear he leaves someone off the list. "They know who they are," he says.
With twenty-plus years of private flying under his belt, Charlie remains 'old school' in his choice of aircraft and the way he flies. "They all used to fly around safely in the 1950s without radios or transponders," he says. He believes that while new technology has its place, at his fly-in he wants everyone to be looking outside of the cockpit during the busy arrival and departure movements. Heaven help anyone who announces over the radio that they have spotted the traffic on their ADS-B!
However his attitude may be changing. He is thinking about selling the Auster and buying something made of metal, with a starter motor, that runs on avgas! We all look forward to hearing the story…
This article first appeared in the Winter 2021 edition of Approach Magazine, the dedicated magazine of AOPA NZ, which is published quarterly.