By Ross Millichamp
With nine books, countless articles and a string of editorial roles to his name, John King has been a respected figure in the New Zealand aviation media for more than fifty years.
John traces his love of all things aviation to growing up in Christchurch in the 1950s. "Aviation was such a big part of the city's life in that era," John says. "The 1953 London to Christchurch Air Race was a particular highlight, but with the Wigram Air Force base on the outskirts of the city, Harvards ("noisy"), Devons ("quiet") and Mustangs ("exciting") made regular appearances up above.
John's working life started with an administration role at CWF Hamilton before he moved to a similar role with the National Airways Corporation (NAC), New Zealand's government-owned domestic airline. Not long after he joined them, NAC made an offer to employees that these days seems amazing: to train staff as airline pilots! John had an interview with the Chief Pilot who suggested he complete a PPL before re-applying. John joined the NAC Flying Club and started training in an Auster.
In those days the instructors were air force pilots from Wigram who would come across to Christchurch Airport to train club members. John's first lesson was entirely ground-based and focussed on how to start the Gipsy Major engine by hand, the Air Force way. In his later flying career, John had a close call hand starting a Tiger Moth when the person in the cockpit confused commands – which would not have happened had he been trained by the likes of Gavin Trethewey, Gordon Ragg and Gerry Brown.
Towards the end of his training the Auster went off-line and John was forced to switch to a Piper Tri-Pacer. "I never liked it," he says. "It felt claustrophobic and landed much too fast." To this day the Auster and Tiger Moth remain his favourite aircraft types.
By the time John completed his PPL the NAC direct entry training scheme had ended so he never undertook commercial flight training. Instead, he moved to Wellington to join NAC's newly established computer department working as a programmer on their big IBM mainframes.
His first foray into photo-journalism came when he suggested to NAC that they needed more real flying stories in their in-flight magazine, NAC Airline Review. John was commissioned to write an article about one of NAC's first airliners, a Fox Moth operating the South Westland route between Hokitika and Haast, which had proven a lifeline to the South Westland community before the Haast Pass Highway was built. He joined David Lilico in ZK-ASP in a flight to Haast in 1972, the airline's 25th anniversary year. The resulting article featured in Issue 62 of Review.
The experience led John to plan a move to aviation-related photo-journalism. He enrolled in a writers' training workshop at Victoria University, the only formal journalism training John has had. Everything else, including the technicalities of airto-air photography, has been self-taught and learnt on the job.
By the early 1980s John was living in Auckland and had started working fulltime freelance as a contributor to a string of aviation publications. Life as a freelance photo-journalist and editor is a tough gig; that John was able to make a career of it is testament to his skill and commitment. Over the years John was Assistant Editor/ Chief Photographer of NZ Wings, Editor of Sport Flying (SAA), but is probably best known as Editor of New Zealand Aviation News between 2008 and 2022. He also contributed all of the photographs to the popular 'Wings Over New Zealand' calendars between 1995 and 2013.
Air-to-air photography is a feature of John's work. This typically involves removing the door and right-hand seat of, preferably, a high-wing aeroplane (his favourite is a Beaver) and sitting on the floor facing backwards and shooting photographs from there. A special harness supplementing the passenger lap belt guards against premature departure.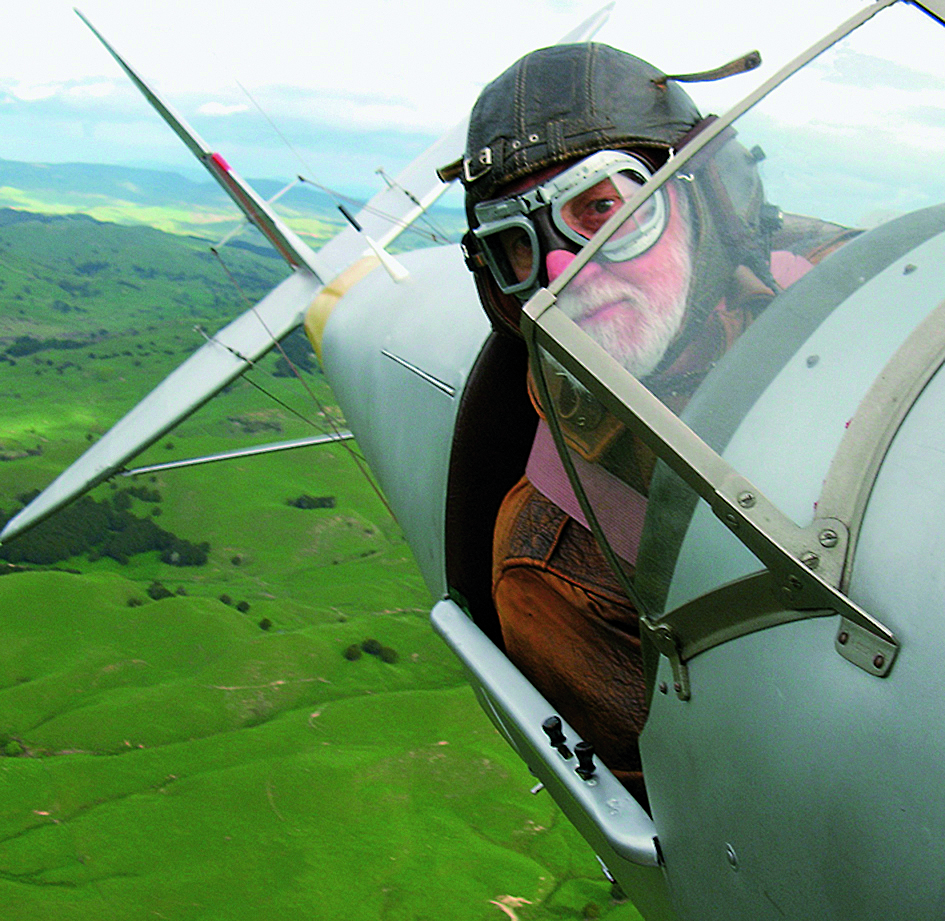 "All aviation photographers strive to get a sharp picture of the aircraft while also getting a full propeller blur," says John. This is much easier in an air-to-air setting because the subject is stationary in relation to the photographer. A lens as small as 135mm and shutter speeds of 1/40 – 1/60 of a second can generate sharp pictures when shooting air to air. On the ground it's much more difficult because the aircraft is moving quickly past the photographer and it is difficult to achieve a sharp image while retaining the sense of movement conveyed by a blurred propeller. Interestingly, the image stabilisation technology incorporated into modern camera lenses works really well for air-to-air photography but not for ground-based photography where the photographer is moving the camera to keep up with the aircraft. "You're better off turning it off for this work," says John.
In addition to working as an editor, John has written nine books, all but one of them on aviation. The book which had the most impact was New Zealand Tragedies: Aviation Accidents and Disasters, published in 1995. In a twist of fate, John's biggest scare as a pilot came just before the publicity that accompanied the release of this book. He was trying to fly to Dunedin in an Auster when, to stay clear of cloud, he was forced out around the Otago Peninsula at low level in rough conditions. As he battled to get to Taieri, he was struck by the irony that the writer of a book about aviation disasters might himself end up as one. When he finally spied a rugby ground on the outskirts of the city, he knew he was safe because that would be plenty for the Auster on a windy day.
John's flying activities started to wind up 1995 when he was grounded by CAA after being diagnosed with kidney stones. The letter from CAA was literally written in red ink! He remains bitter about the harshness of this decision as since being treated, the kidney stones have not reappeared in close to thirty years. John did a little microlight flying after losing his PPL medical, but Tecnams with their Rotax engines never evoked the same joy as he experienced when flying Austers, Tiger Moths and Cubs.
John's most memorable flying experience was in 1984. It was his last opportunity to get a discounted flight as an employee of Air New Zealand before going in to photo-journalism full time. Nick Oppegard had bought a Cessna 195 floatplane in Upstate New York and invited John to accompany him on the trip to ferry it back home to Seattle. The big radial-powered aircraft didn't have great range so they were forced to make many stops for fuel along the way, generally landing on lakes and taxying up to boat-fuelling docks and taking on motor grade fuel. John was surprised at the courtesy extended to them by boat operators, who invariably moved out of their way and gave them priority access to the fuel pumps. Nick had a different opinion, pointing out the large metal prop acting like a scimitar!
In November 2021 NZ Aviation News was taken over by NBR and John was made redundant. He is now semi-retired and keeps his hand in the publishing game as Editor of The Aero Historian, the quarterly magazine put out by The Aviation Historical Society of New Zealand. He continues to travel around the country attending airshows and aviation events. He is a long-time member of AOPA NZ and would love to attend more of our events if anyone has a spare seat (hint-hint!).
"To me, aviation has always been about going places," John says. "We pilots see so many things that most New Zealanders miss out on."

This article first appeared in the Autumn 2023 edition of Approach Magazine, the dedicated magazine of AOPA NZ, which is published quarterly.