By Ross Millichamp
The relationship between aircraft owners and the CAA is often perceived to be one dimensional – they set the rules and we do our best to comply with them. I recently sat down with Keith Manch, the newly appointed Director and Chief Executive of the Civil Aviation Authority of New Zealand, to learn a little about him and his organisation.
Keith came to the CAA in February 2021 after a nine year term as Chief Executive of Maritime New Zealand (MNZ). Like many aircraft owners, I wondered about the link between the two agencies and how Keith's time at MNZ might have prepared him for the role at CAA.
Keith explains that MNZ, CAA and Whaka Kotahi (the NZ Transport Agency) all came out of a restructuring of the Ministry of Transport in the 1990s, and notes that they have similar statutory frameworks. First and foremost they are regulatory authorities focussed on the safe and secure operation of their respective modes of transport. MNZ and CAA also share international responsibilities in relation to how New Zealand vessels and aircraft operate outside New Zealand, and conversely how international vessels and aircraft operate here. So while Keith acknowledges that the aviation sphere is new to him, it is clear that he fully understands the regulatory environment that the CAA works within.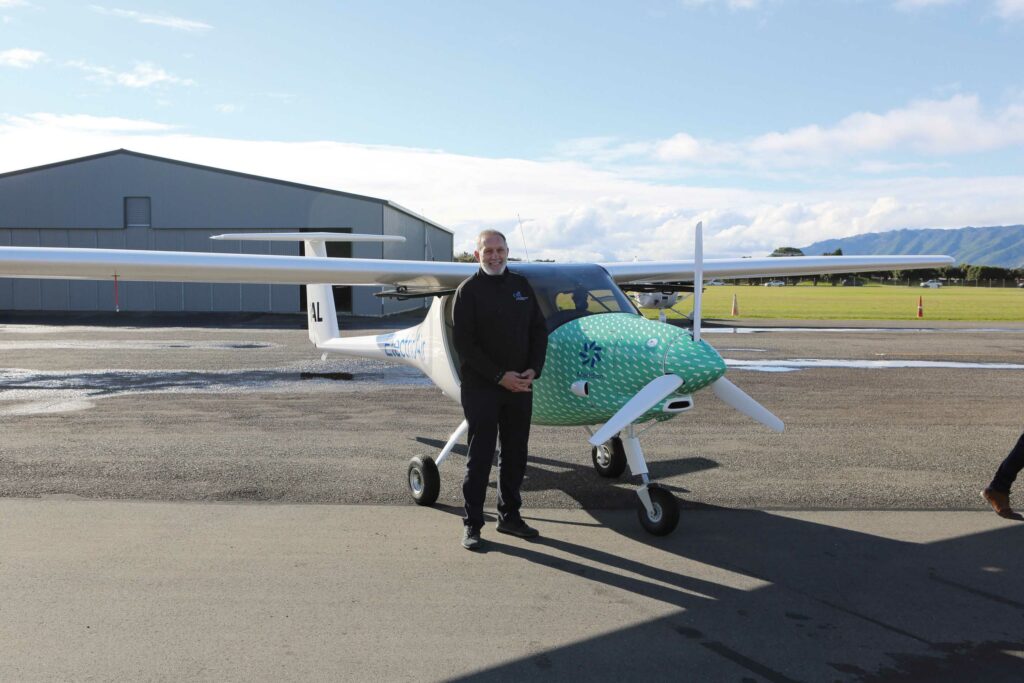 Funding basis for public and private good
The CAA is funded through a mix of user charges and Crown funding. While all regulatory activity is undertaken in the public interest overall, within that, functions that are deemed to be of 'private good' or 'club good' are paid for by users on a full cost recovery basis. Private good functions are those which provide benefit to individuals or organisations, such as pilot licensing, aircraft certification and operator certification. Club good functions are those with wider benefits to the community, such as the operation of the safety system.
Private good activities are funded by fees and charges, and club good activities through the more generalised CAA levy system. Public good functions are those that benefit all of New Zealand, such as policy development, and these are funded by central Government with no costs levied on users. The ADS-B transponder subsidy programme is an example of a public good function with benefits that extend beyond individual aircraft operators.
The cost recovery principles for private good and club good functions differ markedly from the way Airways NZ charge for their services. As a State Owned Enterprise, Airways NZ is required to produce a surplus to the Crown, so their charges are above and beyond what is needed to provide the service.
Covid impact
The majority of the authority's staff work in the Aviation Security Service (Avsec), which has been heavily affected by the COVID pandemic. Although domestic airline activity has recovered to around eighty percent of pre-COVID levels, international airline activity is currently below ten percent of pre-COVID levels. This has severely reduced the CAA's income, with the Authority currently being kept afloat by the government's liquidity fund.
Earlier this year industry experts were predicting that airline activity would return to pre-COVID levels by around 2025-2026, and then along came the DELTA variant… Many industry representatives are now wondering whether activity will ever return to 2019 levels.
CAA has been able to divert some of its Avsec people into roles such as assisting with security at MIQ facilities, but it has been a difficult and uncertain time. Turning the industry 'back on' at the end of the pandemic will not be easy either. Keith explains that the airlines talk about 'rusty planes-rusty pilots', and notes that the same will apply to many elements of industry – with one of the key challenges being to remain ready to go when recovery occurs.
In addition to Avsec scanning passengers and luggage onto and off flights, the Authority oversees security relating to activities that facilitate the movement of freight through the border, which has implications for foreign trade. New Zealand systems have to be of an acceptable standard to our trading partners in order for goods to flow. In respect to passenger security, Avsec is constantly working to evolve scanning systems to stay one step ahead of security threats.
GA sector
The GA sector is a smaller component of the CAA's operations, but still has implications for foreign trade and tourism. Rotary wing operations has been a particular focus in recent years due to this sector having a historically higher accident rate than other GA operations. The rotary sector also influences the reputation New Zealand holds in the rest of the world because visitors are frequent users of helicopters.
Keith believes that getting the industry to take ownership of its safety management systems, rather than having them delivered by third parties, is key to making real improvements in the accident statistics. Having operators constantly reviewing their safety systems is more likely to be effective than relying on occasional visits from a CAA auditor, he says.
"An intelligence-led, risk-based approach to GA operations is the way of the future."
In order to facilitate this change in approach, CAA will consider approaches such as differential auditing systems that reward safe operators by requiring less frequent audits and re-certification. This is similar to the way that Farm Environment Plans work in the rural sector, where high performing farms are visited less often than those which are still a work in progress.
More engagement between CAA and the operators between certification and re-certification is a key element. CAA wants to create an environment where it is "easy to comply", Keith says, rather than an environment where "compliance is easy" based on lower standards.
The CAA has moved from a structure based on types of aviation activity to one based on the kind of regulatory activity being undertaken, where staff move in and out of operational areas based on need. So rather than have a rotary division and a fixed wing division, the Authority has product and operator certifica – tion teams, monitoring and inspection teams, a personnel licensing team, and investigation teams.
Keith thinks that the CAA will emerge from COVID as an organisation which will need to be more adaptable and efficient. "We can't predict what will happen to the aviation sector in terms of future activity, but we need to be able to adapt in terms of the kind of regulatory activity that will be required and the resources available to undertake it," he says.
Despite the move to a more generalised structure, CAA still has four Aviation Safety Advisors responsible for the GA sec – tor. During his early fact-finding travels, Keith was impressed by how well connected his GA Safety Advisors were to people in the sector.
"Flying is not what the GA community do, but who they are," Keith says.
Part of the internal change that CAA is currently going through aims to address the organisational culture that has received much publicity in recent years. Keith describes this transition as an ongoing process, with a focus on a values-based approach that will support good internal and external engagement.
Accident investigation
One aspect of aviation management that I have always found confusing is accident investigation and prosecution. Keith ex – plained that there are multiple agencies with responsibilities here.
The Transport Accident Investigation Commission (TAIC) is a key player. Its status is as a Standing Committee of Inquiry charged with investigating accidents on a "no blame" basis, as a way to learn lessons from events that it investigates, to avoid repeats in the future.
In most situations the CAA will be the first to learn of an acci – dent and will immediately inform the TAIC, who decide whether or not to be involved. The evidence gathered by the TAIC cannot be used in a prosecution, which means that CAA has to gather their own evidence to properly undertake their regulatory and health and safety responsibilities.
The CAA's responsibilities in the event of an accident relate to Civil Aviation rules and regulations, as well as its responsibilities as a designated health and safety regulator in relation to "work to prepare an aircraft for imminent flight, work on board an aircraft for the purpose of imminent flight or while in operation; and aircraft as workplaces while in operation."
Depending on the circumstances of an accident CAA will in – vestigate for the purposes of identifying safety lessons and/or taking regulatory action.
And to the future…
Emerging technologies are a priority for CAA in the future, Keith says. Development of the regulatory system is underway in areas such as remotely piloted aircraft systems (drones, for example), electric aircraft, and New Zealand-based space activities. Keith recently had the opportunity to be taken for a flight in New Zealand's first electric aircraft which is operated by ElectricAir. Although still in the early stages of development, he is confident that this is an area which will be increasingly important in the future of New Zealand aviation.
This article first appeared in the Spring 2021 edition of Approach Magazine, the dedicated magazine of AOPA NZ, which is published quarterly.