By Helen Hoffman
I feel a kinship with the East Cape and with Ngati Porou, the tangata whenua, partly because I and my brothers, Chris and Matt were born there, and partly because I love mountains. Hikurangi, the maunga of Ngati Pororu, is rugged, wild and just asking to be climbed.
In two recent trips to the East Cape I spent time on Hikurangi, overnighting in the old hut, welcoming the dawn at the Maui whakairo, as well as visiting places which hold a personal magic – Te Puia, where I was born; Ruatoria; Whakawhitera, where my parents taught in early 1960s, and Tikitiki, which has the world's most beautiful chapel.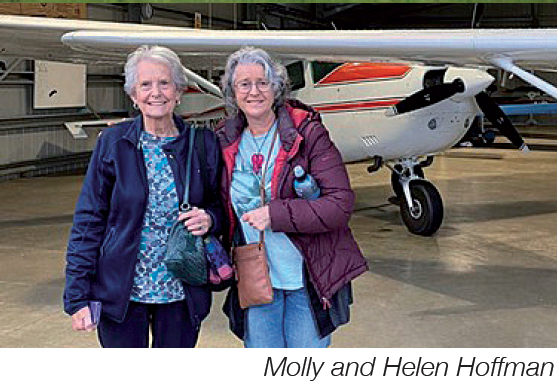 A highlight was Wharekahika (Hicks Bay) where we also lived and where my dad caught so many kahawai at the river mouth that my mum was bottling them for days! So when my older brother Chris said he was flying to the Ruatoria Aero Club's 60th anniversary on 27-28 March and that he had a spare seat, I had no hesitation.
My only problem was that I'm not a happy flyer. In fact, I'm an anxious flyer. My last two trips to the East Cape had been via Air New Zealand planes big enough that you don't even know you're flying, and that's how I like it. The thought of getting into Chris's Cessna 206 did not thrill me.
On the day of the fly-in, preloaded with airsick pills and a prayer, I accompanied my mum Molly to Paraparaumu airfield and waited as Chris went through the preflight rituals, following his wife Sally's advice: leave him to it, let's enjoy the morning sun. The sun was rising as we took off, rays shining through the dawn cloud, and there was not a bump or a shudder. A good day to be flying Chris assured me, and so it proved.
During the flight up I was glued to the window studying landforms and towns; the familiar places freshly beautiful from this bird's eye view, and so much closer and more personal than through a commercial jet's window. I was fascinated listening to the communications with air traffic control and hearing other pilots checking in.
Chris and Sally, both experienced 'fly-inners'," checked on Molly and me throughout the flight: 'Were we okay; be prepared for a turn here; may be a bit of turbulence there'. Reassured by the updates, there were no surprises. I was apprehensive as we approached Ruatoria; it would be my first grass strip landing. A call to 'air traffic control', aka Mahanga Maru, Chris using his best Te Reo, and soon we were bouncing along the strip, being ushered to our parking spot and to a real Ngati Porou welcome.
Ruatoria airfield has a unique on-field experience via the Koti Club. It was open for guests, Mahanga offering tea or coffee and a chair to rest and, for the adventurous, the possibility of scenic flights over Hikurangi or the East Cape.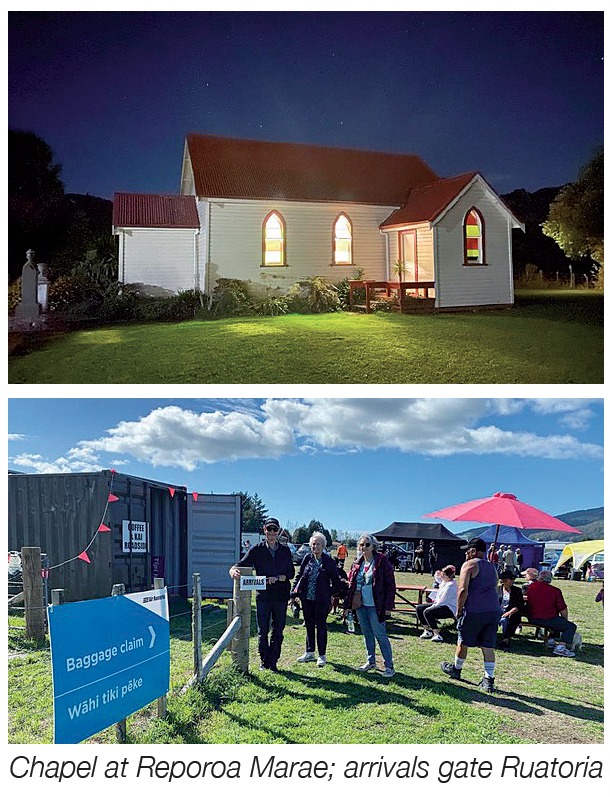 The 60th celebrations were a community event. Local musicians, crafts, kai providers, the NZ Police, NZ Defence Force and Helicopter Rescue were all on site supporting the Aero Club, creating a fête-like atmosphere. For a non-flyer like me, the presence of almost thirty planes landing en masse was a sight hard to beat.
Once all planes were on the ground we were taken by bus to Reporua Marae, Mahanga's home marae. Reporua is nestled amongst groves of trees beside crashing coastal surf and has an aura of peace and tranquillity. We were welcomed and fed like royalty. For many attending pilots, the experience of being hosted and staying overnight on a marae was a first. It's a unique experience. Unique for me was seeing the pilots enjoying being with others who enjoy flying and their flying machines, and, despite some of the more technical conversations being beyond me, their passion was evident.
The speeches and dedications honoured the early founders and stalwarts of the Ruatoria Aero Club, men like Theo Meredith, Hughie Hughes, Neil Thatcher and others. The anniversary was special for my whanau. In 1962 my dad Julian, now deceased, photographed the original clubhouse, a corrugated tin shed excess to Ruatoria Council's requirements, being floated across the Waiapu river on a log raft. My mum still had the colour slides and Chris presented three framed prints to the Club during the weekend.
Guests were privileged to sleep in the wharenui, watched over by photographs of Tipuna gone before. My whanau was particularly blessed and slept the night in the beautiful chapel on the marae, Mahanga taking pity on us with the prospect of twenty snoring pilots! My mum was honoured by Mahanga with the title 'koka' Molly, a reflection of the esteem she was held in as a strong woman leading the way.
Our time on the marae finished with a pororoaki; us as guests thanking our hosts, honouring their generosity with song. Aircraft departure was as special as arrival. After copious farewells, each craft lifted off and headed for home – east, west, north and south. After Chris had taken Hughie Hughes for a fly over this unique part Aotearoa, we did the same.
The weekend was memorable on so many levels – for my whanau and our history with the Aero Club, as my first fly-in, and for the flying itself: flying for the sheer joy and pleasure it can bring, rather than simply as a means of transport. I'll go again when next Chris has a spare seat.

This article first appeared in the Winter 2021 edition of Approach Magazine, the dedicated magazine of AOPA NZ, which is published quarterly.