To acknowledge the work done behind the scenes over the last 50 years, AOPA's Life Members minted a medal honouring 'above and beyond' service, presented on the occasion of the 50th Anniversary. An outstanding turnout at the Anniversary dinner saw many of these presented in person.
Medals were presented during the Anniversary dinner to:
Ivan Strathearn, the first President of the Kittyhawk Club. 
Celia Bowmar, for her many years as secretary and producer of the newsletter. 
George Thompson, Kevin Anderson and Shaun Gilbertson; all stalwarts of the Executive, and regular organisers and attenders of AOPA events, as well as encouragers of new members. 
Ian Sinclair for keeping AOPA IT systems up-to-date. 
Alistair Matthews, who on the committee and in the position of Safety Officer dealt with issues of safety at many flying events. 
Anna Mackenzie, our long-standing editor, producer, writer and photographer for the AOPA magazine. 
Dave Wiseman, service on the committee and organising events. 
Arden Jennings, a great attender and sponsor of events, with much useful information to offer at these times. 
Graeme and Marie Donald. Graeme spent many years on the committee including as Vice-President; he and Marie organised several memorable AGMs and safaris. 
Mike Wine, a general all round good bugger and 'meeter and greeter', and still attending the AGM at almost 92 years old. 
Robbie Burnside, for many years of faithful service, and always making everyone welcome at the farm. 
Tom Williams, for years of committee service and being a great representative of the West Coast, while also managing to include some airstrips on the Coast in his roadside mowing contract. 
Anne Hore, a most generous hostess at Nokomai and especially for the world AOPA convention. 
Ruth Orbell, first lady on the Executive and a most welcoming host at Clayton Station.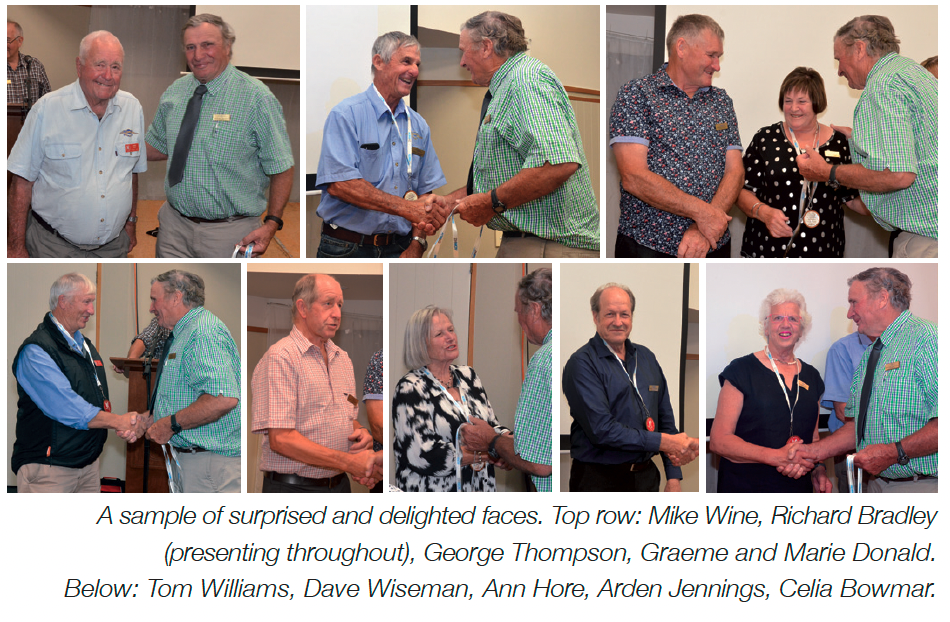 Recipients not present subsequently presented with medals:
Phil Pacey, for Blue Light flights. 
Don Ryder, for years on the committee including many as VicePresident, and organising advertising for the AOPA magazine. 
Murray Smith, committee member and magazine editor, producer and distributer for many years. 
Ian Vercoe, for many years as secretary. 
Guy Sanders, organiser of Shell and Z fuel discounts and numerous winter fly-ins at Omarama. 
Claire Paterson, for much hosting and helping with meetings and fly-ins; always making everyone welcome with food and drink. 
Paul Hood, for much work on autumn fly-ins and safaris, years on the committee, and for building a new Hamner airfield and getting RD fuel depot established there. 
Guy and Davida Mead, for always making visitors welcome to the fabulous Dingle, giving food and accommodation so willingly over many years to hundreds of members. 
Laurie and Anne Prouting, for opening Mesopotamia to many visitors and making everyone welcome over many years. 
Granville Jones passed away in advance of the AGM, but was presented with a medal prior to the AGM weekend for his work in organising many great fly-in safaris and AGMs in and around Gisborne and the East Cape region, all of which ran perfectly.
This article first appeared in the Winter 2021 edition of Approach Magazine, the dedicated magazine of AOPA NZ, which is published quarterly.