By Neville Bailey
I'd only recently joined AOPA upon returning to live in New Zealand when Jonathan Battson invited me to join him at the Haast fly-in, and I leapt at the opportunity. With my airline career taking me to Hong Kong and Cathay Pacific for two decades, I'd been out of General Aviation for years, and I'd missed it.
Friday afternoon we got airborne and, after a brief fuel stop to fill the tanks on Jon's Bearhawk, we headed straight to Geraldine, intending to fly through Burke's Pass. Winds were strong, the 30kts forecast at altitude manifesting itself in the blown snow visible on distant mountain tops, so we stayed low, avoiding much of the turbulence. My previous flying career was becoming a distant memory, but there were times on this trip that I wouldn't have minded being in the smooth air at FL390, sipping a hot coffee while the autopilot did the lion's share of the work.

One of the reasons I'd been keen to join the trip was to become reacquainted with the GA scene, the people, and the flying itself. I'd recently renewed my BFR and done a few hours in a Piper Cub, but it's one thing doing circuits under the watchful eye of an instructor in perfect weather, and quite another being out in the real world, airspace, weather, mountain passes, in an aircraft with which I was unfamiliar – albeit one nearly identical to the quick-build Bearhawk kit that is slowly taking shape in my garage.
With Burke's Pass looming up ahead I'd inadvertently grabbed hold of one the overhead steel tubes in an effort to stop being thrown around, white knuckles giving away my apprehension. I was unaccustomed to being tossed around like this and having a few thousand feet between me and the ground wouldn't have gone amiss. But we passed through into the Mackenzie Basin and the turbulence eased into much smoother conditions over a few familiar landmarks.
Tim and Adrienne Ward were following behind us and they continued south as Jon and I stopped in briefly at the Ohau airstrip before continuing up the Huxley and into Landsborough Valley. Landsborough was nearly calm and my fears were replaced by a sense of wonder as I took in the scenery. It's a lonely, remote place, and that's the whole point of being there. We flew over several Tahr near a disused and deeply snow-covered airstrip at Marks Flat, and Jon showed me a few other back country airstrips before we headed through to Haast and picketed down for the night.
The hotel fireplace was a welcome spot to enjoy a few ales and meet others who had flown in for the weekend, and conversations were soon in full bloom. It was still dark the next morning as we hiked over to the airfield to check the plane before breakfast. With freezing fingers and wearing two jackets, we removed and stowed pickets and did a preflight, with the shadows of sixty aircraft lined along the fence in the darkness. Then back to join everyone in the dining room for several coffees and a hot fry-up. The usual aviators briefings and discussions about which way we should head and which group to join. More coffee. A group of 'taildragger guys' had a list going that Jon penned our names to and a plan started to take shape. John Evans would lead us on the day's adventure.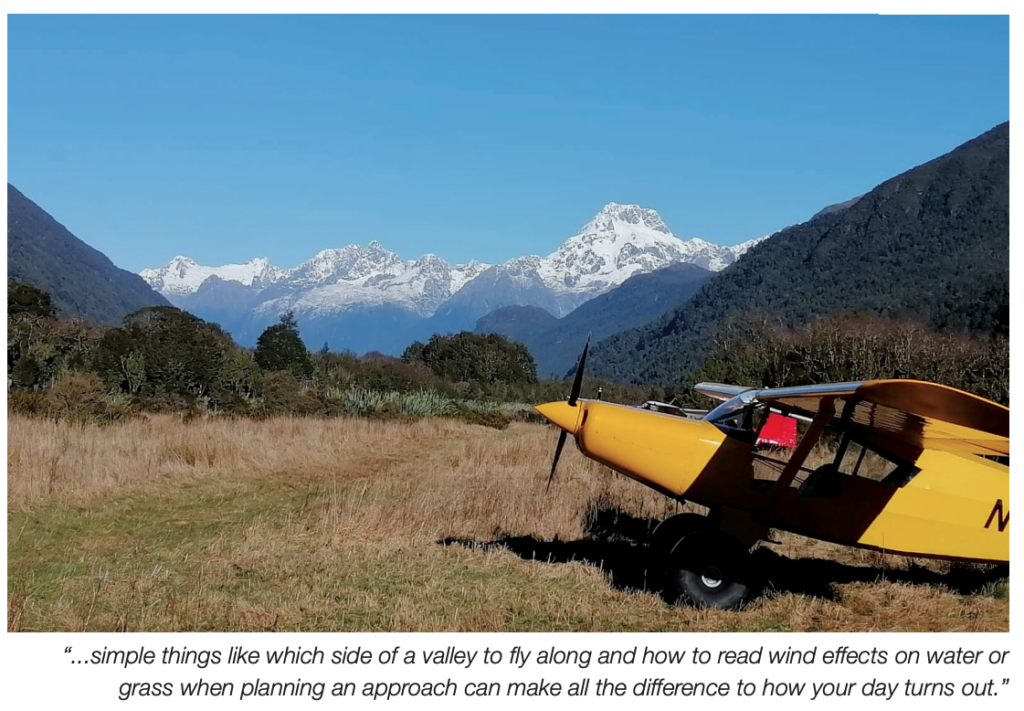 We got airborne and headed south, first venturing into the Okuru Valley for a gravel landing, then down towards Arawhata with numerous stops en route.
This type of flying is at the opposite end of the spectrum to what I'd come from and it's easy to take for granted, but simple things like which side of a valley to fly along and how to read wind effects on water or grass when planning an approach can make all the difference to how your day turns out. There's no ATIS and the lack of mobile reception means even getting a METAR is difficult in these parts.
I was a keen student with a lot of questions. I wanted to know about short field technique for takeoff, flap setting, is it better to get up on the mains early or fly off from a three-point attitude?
There are no dispatch officers or Takeoff Performance printouts showing flap settings and V speeds on these airstrips, it's much more a seat of the pants operation. The short strip approaches were all being flown well back on the drag curve, a high nose attitude accompanied by a higher than normal power setting. This was resulting in very short landing rolls; a technique I'm going to have to practise when my own aircraft is ready. I could see that all the taildragger pilots were flying a very similar approach style, and all with a healthy dose of caution – the experience in the group I was flying with became obvious during the day. In the flying I was used to, we'd always aimed for the 1500ft markers with a decent margin over the Vref speeds, a necessity of airline operations. But that was never going to work in these parts and I was enjoying the change, the flexibility, where each individual pilot had their own personal standards and systems.
I'd enjoyed the career, of course, and am grateful for all it offered, but longterm fatigue was always a factor, and if I never see another monthly 'On Time Performance' graph again, it'll still be too soon.
I got to see 18 'hot' starts on Saturday, and the routines that go along with it.
The back country isn't a place you'd want to get a flat battery. Each pilot had their own practised procedure for starting, and I was shown a few tips for taxiing and lining up while keeping the strip in view. These strips were reasonably short. I'd expected that, but I hadn't expected that they'd be so narrow. I'm going to have to get my feet working again; the margin for error is small.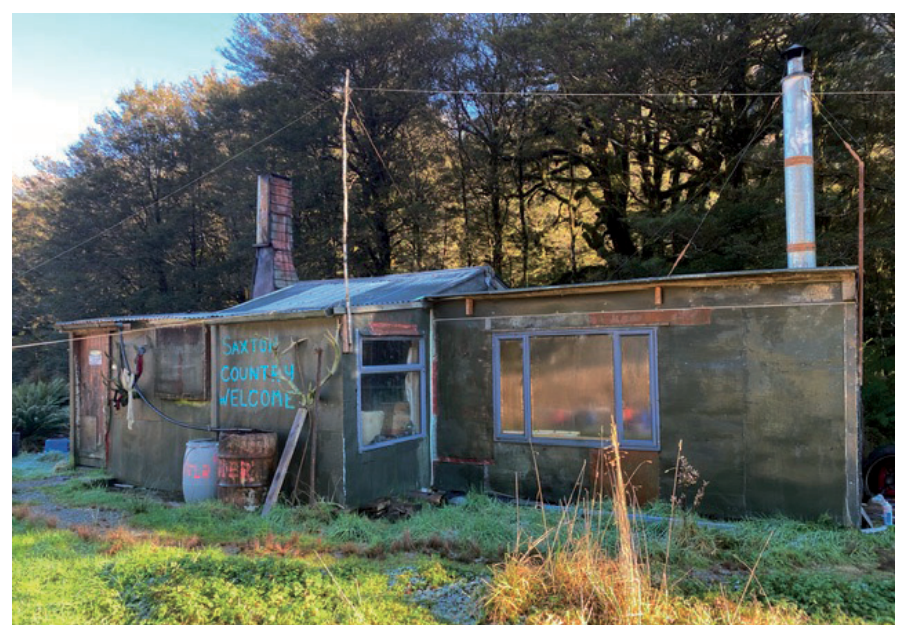 A good landing wasn't a smooth one, quite the opposite, with airspeed kept to a minimum and when the throttle was closed the large shock struts soaked up any remaining energy and kept us firmly on the ground. Finesse was observed in the ability to shorten the landing roll, not smoothen the touchdown. Takeoffs had the tail in the air quickly, tailwheel and tailplane clear of the rocks and out of harm's way. And the sound of those Lycomings and Continentals with their long bladed props reverberating around the hills and advertising our presence!
A tramping hut at one of the landing strips provided a convenient place for lunch and a friendly banter discussing the pros and cons of various aircraft types and bush flying techniques. I chatted with John, Brian, Craig Thompson, Dave and James Murray and Richard Coop. They each had their favourite spots, and they explained the concessions that allowed us to access these parts as well as the peculiarities of the different airstrips.
Flying home on Sunday afternoon, the group began to thin out as people left to head in the direction of their home airfields. Jon and I crossed high up into the Alps, getting spectacular views of the ice-fields, before descending along the Rakaia towards Lake Coleridge and home. Writing now, it seems like another world, but I hear it's an annual event and, with renewed inspiration, I'm putting in the hours out in the shed each day and slowly the home-build is taking shape. I hope to have it ready to fly to next year's AOPA gathering, so that I can again enjoy a drink with new friends and follow the taildragger guys on another epic adventure into the back country.
This article first appeared in the Spring 2021 edition of Approach Magazine, the dedicated magazine of AOPA NZ, which is published quarterly.