By Anna Mackenzie
When twenty planes – Austers, Tiger Moths, Cubs and Cessnas – from Timaru, Otago and Southland gathered at Walter Peak Station in 1969, it was remarkable enough to make the local newspaper – and led to the incorporation, a little over a year later, of the Kittyhawk Flying Club.
The inaugural meeting was held at Taeiri on 7 March 1971 and the club formed with 60 members. Ivan Strathearn was elected President – and what an honour it was to have him at the 50th commemorations. From the outset social gatherings were a mainstay of the organisation, but it soon became clear that there was an additional need to provide a voice for recreational flying to protect our right to fly. In 1978, the Kittyhawk Club officially adopted the AOPA banner, joining AOPA International in 1985. At that time AOPA NZ membership stood at 280.
Subsequent decades saw the Executive Committee much involved in national politics, representing GA's interests against legislation restricting private aviation. Three forums remembering AOPA's history proved a highlight of the 50th anniversary weekend. With Ian Sinclair hosting in the style of Michael Parkinson – or was it Graeme Norton? – panellists shared stories of where we've come from, celebrated our successes, and cast a brief glimpse at where we're going.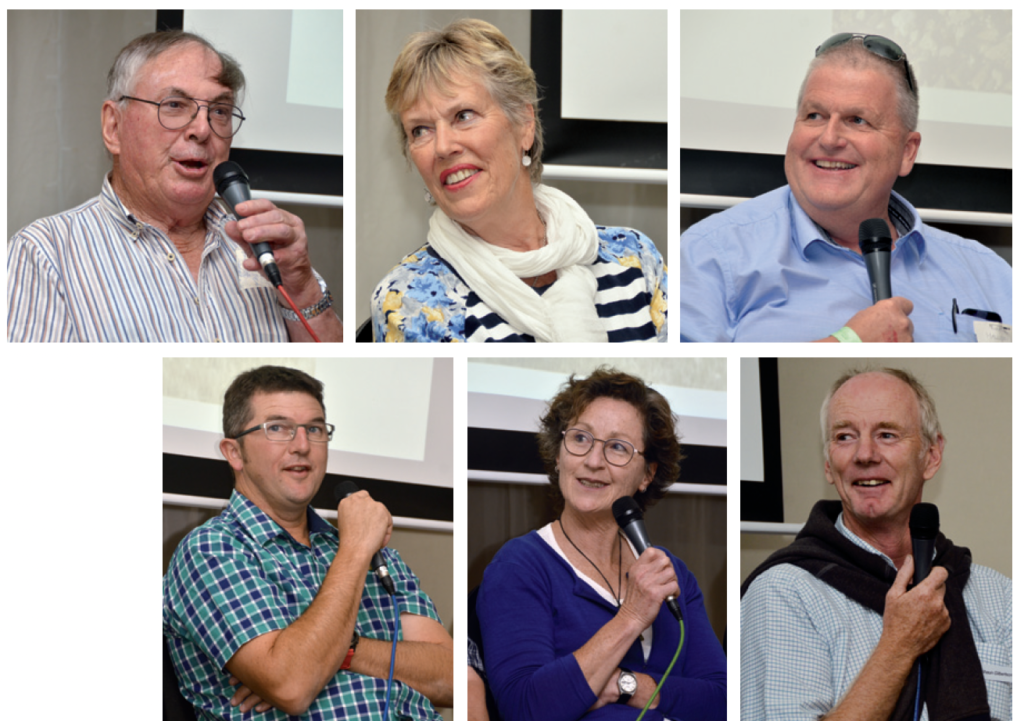 First up were some of our long-standing members whose recollections stretch back to those early days. The name 'Kittyhawk Club' came from the Wright brothers, who flew from Kittyhawk Sands, Merv Halliday recalled. "The first meeting didn't take long," Brian Hore added. "And afterwards we had a fly around Dunedin to let people know what was going on." As the 1970s progressed, 'trendy things like logos' were adopted and the organisation began to evolve. Merv: "Back then landing fees were free and petrol was 7cents/gallon – but things were beginning to tighten up. 'User pays' was starting to creep in – and that led to the feeling that we needed to be part of international AOPA."
The Executive settled down to some serious work – panellists Brian Hore, Merv Halliday, Brent Fergusson, Murray Paterson, Russell Taylor, Ian Andrews and Richard Bradley jointly represented 79 years of service on the Committee, but the longest service record goes to Don Ryder, with 16 years (and still counting!) of continuous service. And let's not forget the commitment (and tolerance) of all the other halves… But it wasn't all committees.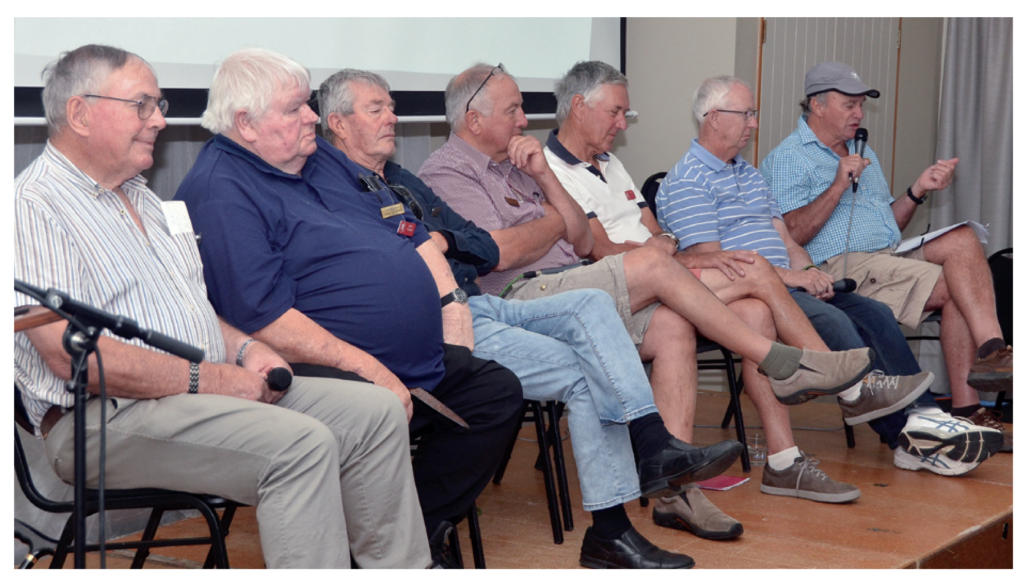 Family outings and flying trips have always been a feature. "AOPA was a big part of my life and my family's social life," Brent Fergusson noted. Murray Paterson: "For our first fly-in we landed on a strip at Glenorchy. The wives had supplied big bags of smoko, and we set it all out and listened to the rugby test on a transistor radio." Richard Bradley joined in 1984, and recalled the newsletters produced by Celia Bowmar on an old Gestettner. "They were really interesting. AOPA trips became a big part of our family life – the kids still talk about them." He also recalls being crowbarred into standing as President – some things never change!
There were brief encounters with Government. "We fought the 'age 60' rule and Airways' $42 flight plan charge – it was a lot of money then; we had to fight it – and actually, we're still fighting it." Brian and Merv's brush with government, over the levy on aviation fuel going into the consolidated fund, had proven equally frustrating. "We went to Wellington and met MP Martyn Finlay, plus advisors. We'd just started to put our case when there was a division in the house, bells rang and the meeting was abandoned. What a disappointment! Next day we met Opposition MP Colin McLachlan at his request; he opened the whisky and promised the earth – easy when you're not in power. Post election, we met with him and those same advisors again and they were all apologetic that they couldn't do anything as previously discussed. It was like belting your head against a brick wall."
Russell Taylor remembers continual hurdles with CAA. "We approached them and had extensive talks, and they agreed to develop a Memorandum of Understanding." Brent: "When we joined it was purely social, but CAA and others were trying to make inroads into our flying, and many people joined because they could see we needed to have a voice at the table. AOPA gave us that. We've got to keep fighting for it but, compared to the situation in other countries, what we've got is pretty good."
Politics aside, there were local and international flying adventures. "The first time we flew around Aussie," Russell recalled, "we had a group of about 40 or 50. We flew over via Norfolk and Lord Howe. Your aeroplane will go for years and years without a problem, but if you're ever flying over water, if it's going to go wrong, it'll do it then." "Advocacy is great," Murray said, "but the social side is still an incredibly strong part of this organisation, which we shouldn't let slide."
That social aspect was the focus of the second forum of the day, featuring Ruth Orbell, John Carter, Graeme Donald, George Thompson, Kevin Anderson, Sean Gilbertson and Geoff van Asch. Ruth and her sister Claire Paterson were taught to fly by John Penno. "He went round the country, staying in each place for a week at a time, and taught local people to fly. He brought a different aeroplane every time – that was an experience."
In 1982, newly licensed, she became the first woman elected to the Executive and took responsibility for organising fly-ins. "We had quite a few at Nokomai, Dingle and Clayton. In those days the philosophy was 'fuel your plane and fuel your family, all the rest will be free'. You brought a tent and stretchers. There was a loo available, and the shed for shelter. At one fly-in we ended up with 110 people, including ten kids. Ten kids could find ten times as much trouble."

Kevin Anderson would take his boys along and, while the flying was on, take them fishing. "Lifelong friendships were formed, within both generations." North Island fly-ins began to feature. John Carter and Graeme Donald recalled gatherings at Raglan, Te Kuiti and up around the East Cape – "some of the most beautiful coast in New Zealand." In 1987 the first mid-winter fly-in was held at Lake Pukaki, with a trip up to Mt Cook the next day. A few years on, the event relocated to Omarama "because we could taxi right up to the hotel."
The northern South Island Safari 2020 proved memorable for the access it gave to places you don't normally get to. "We owe a great debt to landowners who let us onto their properties and allow us to use their strips," Ian Sinclair noted.
The day's third forum with Jacob Booth, Grant Halliday, Hamish Ross, Sue Kronfeld, Dave Paterson, Alistair Matthews and Tom Williams focussed on passing on the experience, the knowledge and the enjoyment of flying. B-cat instructor Jacob Booth was introduced to flying by his Grandad at age four. In 2010 he enjoyed his first air safari, aged eleven – as they set off for Portland Island, Judy Pacey gave him her pillow so he could see. "The most valuable part of growing up through AOPA has been the opportunity it presents to talk with people who've been in the game a lot longer than I have; to pick up tips and tricks. It's special to be able to get out and do some strip flying, and to get access to places I couldn't otherwise visit."

Hamish Ross started to fly through the Aero Club movement. "In Aero Club training you get taken to a certain level then you're largely left on your own. Wanting to learn more skills got me involved in AOPA. There are a lot of pilots with a wealth of experience to pass on. You've got to be able to cull the good advice from the bad – and this organisation helps you figure how to do that."
For mountain flying instructor Sue Kronfeld, who got into flying as a teenager – "I was 17 and bored and did a trial flight and that was it: I was hooked" – mentoring is key. "Airwomen's, Aviation Federation and AOPA have all been crucial." Being in touch with like-minded people has been a key part of many of the panel's flying educations – and there's no doubt recreational flying can run in the blood.
Tom Williams noted that his father, Laurie, had been an AOPA member in the early days. "He had a Piper Cub, based in Fox Glacier. I bought my first aircraft in 1988. My son learnt to fly and joined AOPA once he left home, and his daughter, Ruby is a very keen flier. So, four generations." Ian asked how we continue to build our GA community. Sue: "Cost is a big challenge. If you've got a spare seat, fill it up. Encourage someone new in." Alistair: "One day fly-ins attract younger people – the only cost is the flying." Tom: "Learning in AOPA is immense. Once you've got your licence, then the learning starts."
This article first appeared in the Winter 2021 edition of Approach Magazine, the dedicated magazine of AOPA NZ, which is published quarterly.